Coonawarra Update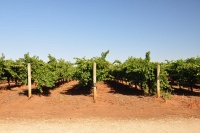 The Coonawarra Vignerons Association has a very informative website with all the promotional activities and other news from the Coonawarra Wine Region, Australia's Other Red Centre.
Majella on Social Media
We maintain an active presence on Facebook. The girls and boys here at Majella keep the page up-dated with lots of photos, information on future promotions and all the general news from Majella.
If you'd like to be kept right up to date then just view our facebook page and perhaps "Like" us.
You'll also find Majella featured on Instagram, with plenty of great photos and other bits and pieces.
Majella Newsletters
Majella sends out a very informative Newsletter every month or so.
These Newsletters will keep you up to date on all the happenings at Majella, including forthcoming promotions, wine dinners, cellar door specials and all the news from Majella Wines here in Coonawarra.
If you'd like to join the mailing list please click here.
Archived Newsletters: