2019 The Musician wine wins the Fuller Reds, Under $20 category in the Dan Murphy's Decoded Wine Awards.
2018 The Musician article from Canada

Here's a great article to read on Australian reds, featuring The Musician amongst others, from a Canadian local paper.
https://www.richmond-news.com/opinion/column-celebrating-australia-day-with-these-beaut-aussie-reds-4980319
Winner of the Winestate 2020 wine of the year is... 2018 The Musician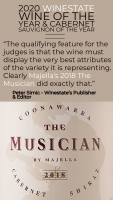 We have won the 2020 Winestate wine of the year & the Hamburg Sud Cabernet Sauvignon Trophy with our 2018 The Musician.
"The qualifying feature for the judges is that the wine must display the very best attributes of the variety it is representing. Clearly Majella's 2018 The Musician did exactly that"
- Peter Simic, Winestate's Publisher and Editor.
Wine Australia makers profile
Have you come across the makers profiles that Wine Australia have created for Australian wineries?
Have a look here at Majella's profile.
2020 Halliday rating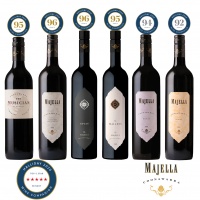 The 2020 Halliday Wine Companion results are in!
96 points for our 2014 GPL68 and 2016 Cabernet Sauvignon
95 points for our 2014 Malleea and 2017 Musician
94 points for the 2017 Merlot and
92 points for the 2016 Shiraz!!
And, did you know we've been a red 5 Star Rated winery for years?
#majellawines #coonawarra #coonawarrawine #cabernetsauvignon #shiraz #themusician #themalleea #gpl68 #merlot #halliday
Coonawarra Update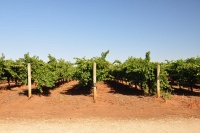 The Coonawarra Vignerons Association has a very informative website with all the promotional activities and other news from the Coonawarra Wine Region, Australia's Other Red Centre.
Majella on Social Media
We maintain an active presence on Facebook. The girls and boys here at Majella keep the page up-dated with lots of photos, information on future promotions and all the general news from Majella.
If you'd like to be kept right up to date then just view our facebook page and perhaps "Like" us.
You'll also find Majella featured on Instagram, with plenty of great photos and other bits and pieces.
Majella Newsletters
Majella sends out a very informative Newsletter every month or so.
These Newsletters will keep you up to date on all the happenings at Majella, including forthcoming promotions, wine dinners, cellar door specials and all the news from Majella Wines here in Coonawarra.
If you'd like to join the mailing list please click here.
Archived Newsletters: