July = Cellar Dwellers month in Coonawarra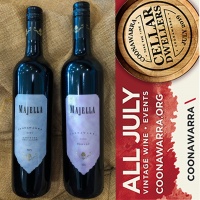 The French Connection.
Australians have always been in love with the classic Bordeaux style and Majella are showcasing two of the great Bordeaux varietals - Cabernet Sauvignon and Merlot from their cellar, a salute to the French Connection. Every weekend in July you will have the opportunity to sample the trophy winning 2007 Cabernet Sauvignon and the gold medal winning 2004 Merlot. Limited stocks of the 2007 Cabernet Sauvignon and 2004 Merlot will be available for purchase and there will be a selection of other back vintage wines available for purchase and some cracking case priced specials.
Visit Majella and meet the winery's friendly cellar door staff who can guide you along the full selection of Majella wines, including their flagship wine, The Malleea.
Visitors, as always, are welcome to bring along lunch and purchase wine by the glass and use tables on the deck or utilise our picnic rugs and outdoor games on our scenic front lawn area.
Bookings are required for large groups and buses. Contact the winery on 08 8736 3055.
AUGUST = Coonawarra Cellar Door in the City
BRINGING THE BEST OF COONAWARRA TO A CITY NEAR YOU
Join us at Coonawarra's annual Cellar Door in the City Event.
MELBOURNE
[5:30pm-8:30pm]
Wednesday 14th August
The Peninsula Central Pier
SYDNEY
[5:30pm-8:30pm]
Friday 16th August
Sydney Town Hall - Lower Level
BRISBANE
[2:00pm-5:00pm]
Sunday 18th August
Moda Portside
ADELAIDE
[5:30pm-8:30pm]
Friday 23rd August
National Wine Centre
PERTH
[2:00pm-5:00pm]
Sunday 25th August
Henry Summer
Visit www.coonawarra.org to book your tickets today!
2018 Royal Adelaide Wine Show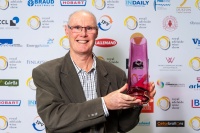 Our 2017 The Musician won the Dr Ray Beckwith OAM Memorial Trophy for best traditional Australian red blend (sponsored by Fassina Liquor) at the 2018 Royal Adelaide wine show.
2018 Royal Melbourne Wine Awards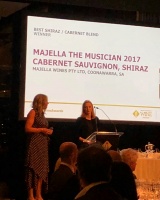 The 2017 Musician also won the trophy for the best Shiraz / Cabernet blend at the Royal Melbourne Wine Awards last month...
2015 Cabernet Sauvignon awarded 96 points
Our 2015 Cabernet Sauvignon has been awarded 96 points by James Halliday.
You can read the full supplement here: http://hallidaymagazine.pressreader.com/halliday-cellaring-selections/20180601
we're on page 44.
Coonawarra Update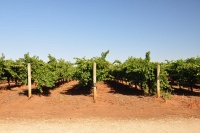 The Coonawarra Vignerons Association has a very informative website with all the promotional activities and other news from the Coonawarra Wine Region, Australia's Other Red Centre.
Majella on Social Media
We maintain an active presence on Facebook. The girls and boys here at Majella keep the page up-dated with lots of photos, information on future promotions and all the general news from Majella.
If you'd like to be kept right up to date then just view our facebook page and perhaps "Like" us.
You'll also find Majella featured on Instagram, with plenty of great photos and other bits and pieces.
Majella Newsletters
Majella sends out a very informative Newsletter every month or so.
These Newsletters will keep you up to date on all the happenings at Majella, including forthcoming promotions, wine dinners, cellar door specials and all the news from Majella Wines here in Coonawarra.
If you'd like to join the mailing list please click here.
Archived Newsletters: